Best NFT Projects: Editorial's Picks
Explore the best NFTs projects, their classification and learn how to better choose NFTs for yourself
Updated on 6th December 2022
Welcome to NFTScout!
NFTScout is a NFT ranking and reviewing community. We have compiled the best and most popular NFTs that are currently available in the NFT space. Here you will find comprehensive guides on non-fungible token projects from across the web3 space.
Our editorial team regularly adds new NFTs to the list to keep you up to date. Don't hesitate to contact us if you have any questions.
Disclaimer: The sorting order in our NFT lists is not influenced by the affiliation commission. It is important to do your own research before investing in NFT projects.
Here is a bit more information on NFT items in our rankings.
How we choose the best NFTs
How to find the best NFT projects? What makes a good NFT collection?
Some of the criteria we look into while preparing the rankings for the best NFT crypto projects are:
Founding teams behind the project. Who has created it and who is working on the brand development
The Roadmap for the project, how well it is developed and supported
The size of the NFT digital collection and the variety of traits, characteristics and features for each token in that collection
The rarity of NFT tokens in the project. The more rarity in the NFT collection the more valuable it is.
The floor price value for the NFT tokens in the collection (based on the OpenSea marketplace or other NFT marketplaces and open resources) and its trend
Community behind the NFT project, how well the brand is developed, Discord and Twitter following counts and the activity from subscribers
Overall trend of the NFT project evolution. How fast does the popularity of the brand grows
Volume trends on the market: the amount of NFTs traded, the price trend, etc. Things that are looked at here: daily and weekly trends of sales
How well the official NFT website is built and the quality of the design. It also shows how serious the team behind the NFT project is
Popular categories on NFTScout
Use the following quick links for access to favourite NFT Projects:
---
Here is a rundown of some of the top NFT projects in 2022:
Want to know more about these NFTs? We explain what is behind each of our top NFT picks and why they made it to our list. Let's take a closer look at these NFT Projects.
The Best NFT Project in Overall Rating
1. CryptoPunks NFT Project

CryptoPunks are one of the earliest examples of Non-Fungible tokens developed by the Larva Labs Game Studio in 2017.
The whole NFT Project collection became an inspiration for the ERC-721 standard and the Crypto Art movement overall. Since then the total sales value for the CryptoPunks project has reached more than $2.05B with the lowest current price per one CryptoPunks NFT token at 70 ETH or more than $220 000.
Check more on the Cryptopunks NFT collection page.
Best most valuable NFT Project
2. Bored Ape Yacht Club NFT Project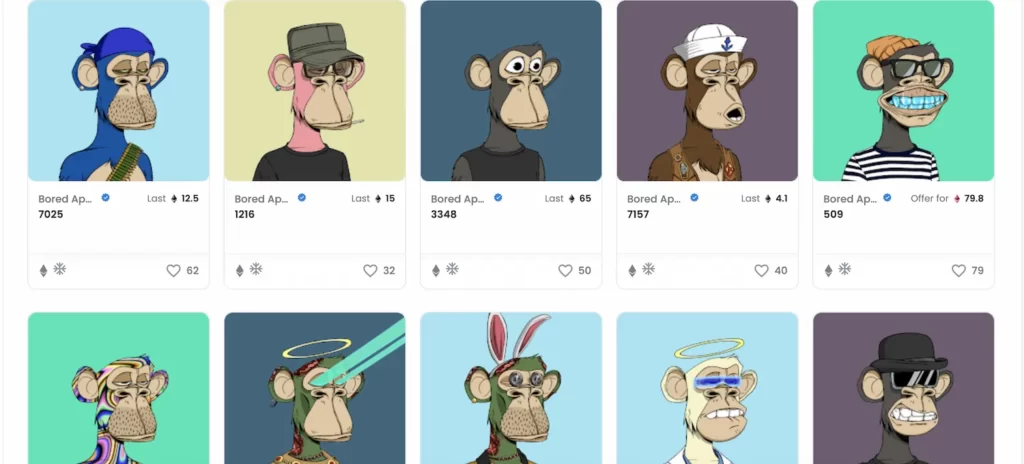 The most expensive and valuable NFT collection currently is Bored Ape Yacht Club non-fungible tokens.
Used as online avatars these unique NFT digital collectibles unlock some utilities such as a Yacht Club membership card and members-only perks and benefits.
The average floor price of one of the NFT Apes on OpenSea marketplace is around 103 ETH or almost $330, 000.
Check more on the Bored Apes NFT collection page.
First project to introduce 'NFT utility'
3. CryptoKitties NFT Project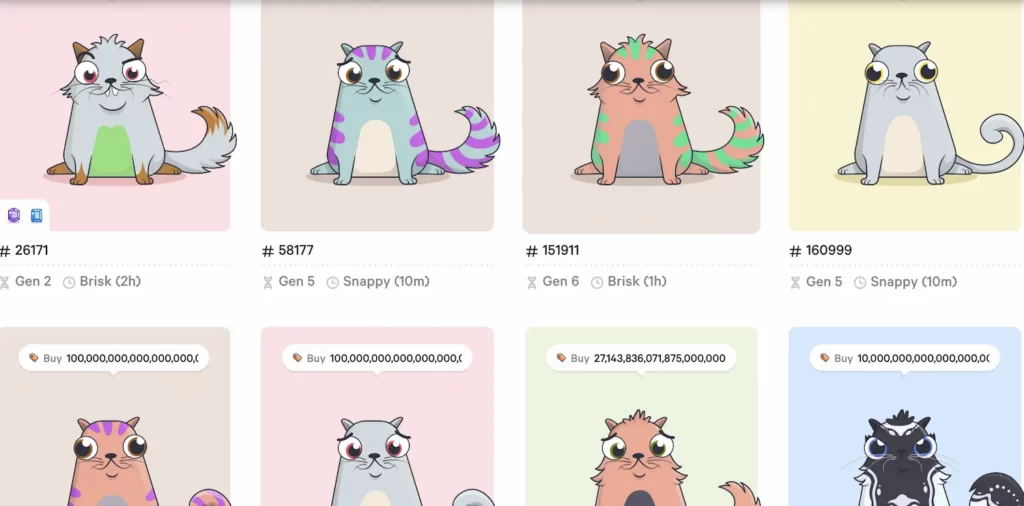 CryptoKitties is the game based crypto collection, first NFT blockchain game in the world. This project was the first to introduce the 'nft utility' concept by allowing its owners to breed NFT tokens to create new ones.
This NFT has a minimum floor price of around 0,1 ETH or around $300.
Best trending NFT project
4. Azuki NFT Project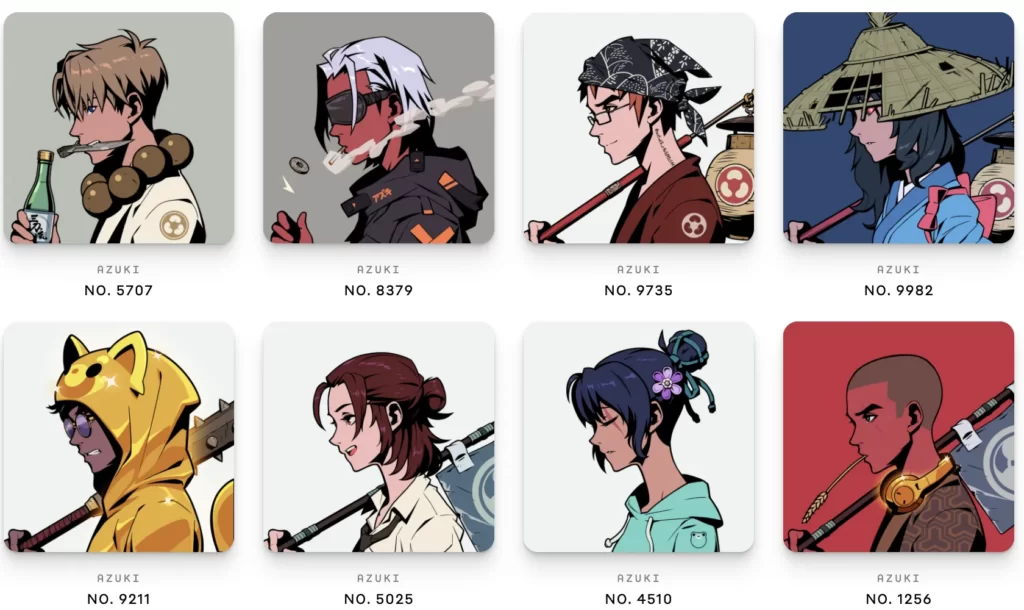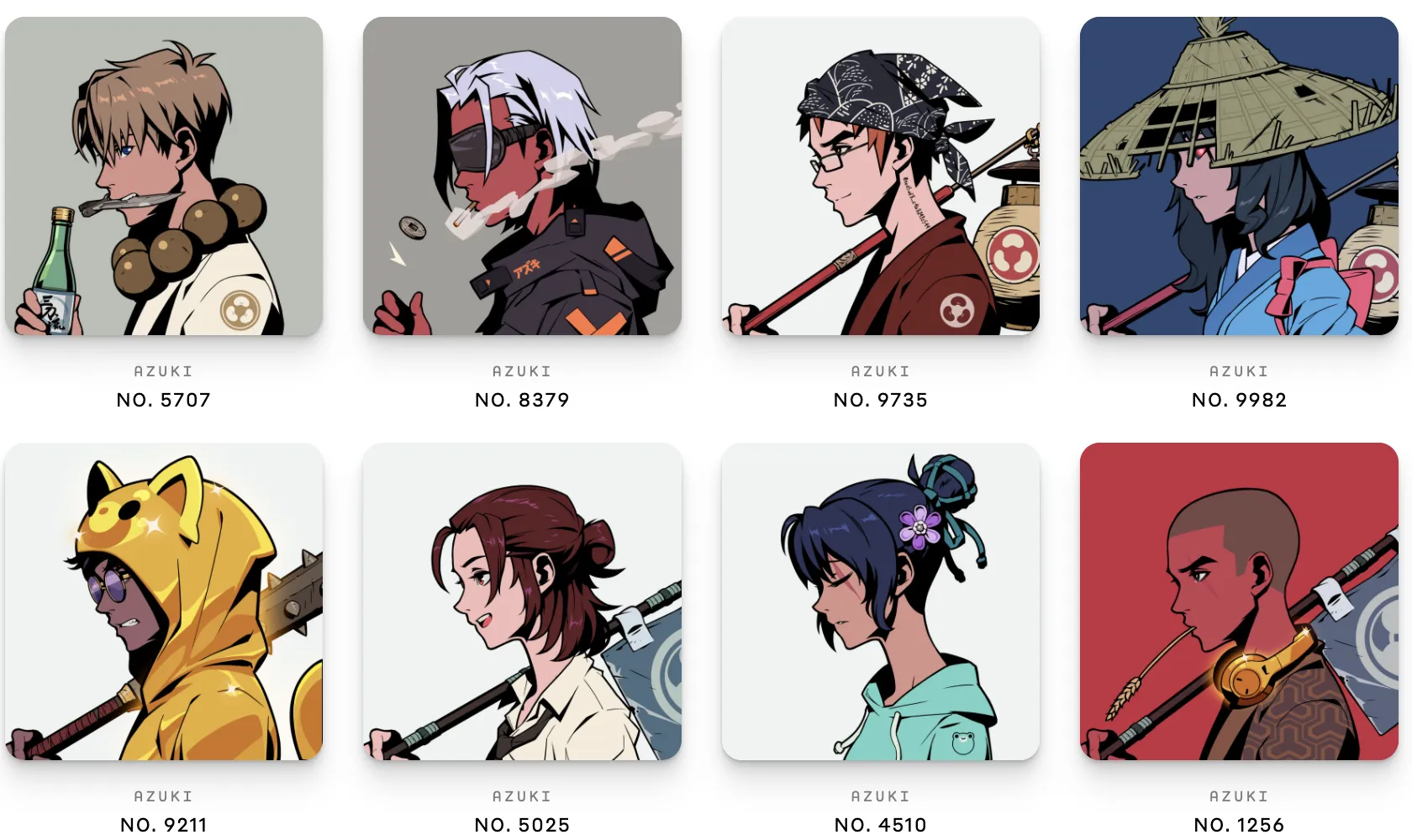 Azuki is one of the top trending NFTs at the moment beating in the trading volume trends even the well-known CryptoPunks and Bored Ape Yacht Club tokens. Azuki NFT project is a collection of 10 000 avatars, holders of which get access to The Garden.
This is what the Azuki creators and the community tell about it: "The Garden is a corner of the internet where art, community, and culture fuse to create magic. It starts with exclusive streetwear collabs, NFT drops, live events, and much more".
Current floor price for the Azukis NFT is around 14.5 ETH or more than $46 000.
Check more on the Azuki NFT collection page.
Best most expensive and rarest NFT project
Cryptopunks NFT Project (again=))
Cryptopunks NFTs collection that is our overall best project in the rankings has also the biggest amount of tokens sold at a record price. These are obviously the most rare NFTs that one can get hold of. One of the examples is CryptoPunk #8348 with the last traded price at 85 ETH.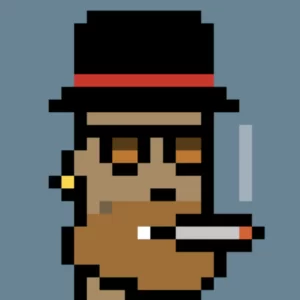 NFTScout personal favourite NFT project
5. Mutant Ape Yacht Club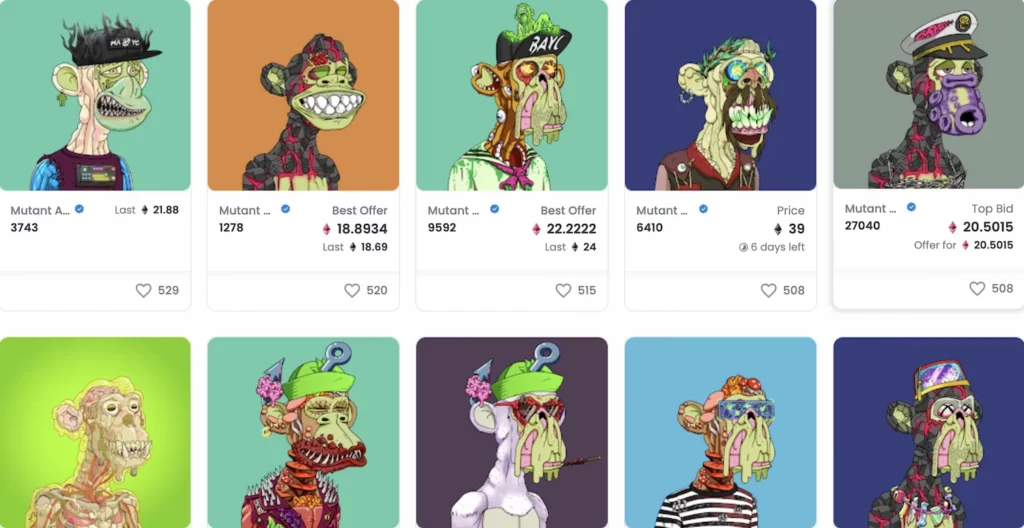 Mutant Ape Yacht Club is a part of the brand that involves NFT collections like Bored Ape Yacht Club, Bored Ape Kennel Club and limited collections Bored Ape Chemistry Club and BAYC Honorary Members NFTs.
Best part is, becoming an owner of a Mutant Ape NFT gives access to utility enjoyed by the BAYC community.
Current floor price for the Mutant Ape NFT is around 26 ETH or almost $79 000.
Check more on the Mutant Ape NFT collection page.
Best NFT for metaverse gaming
6. Axie Infinity NFT Project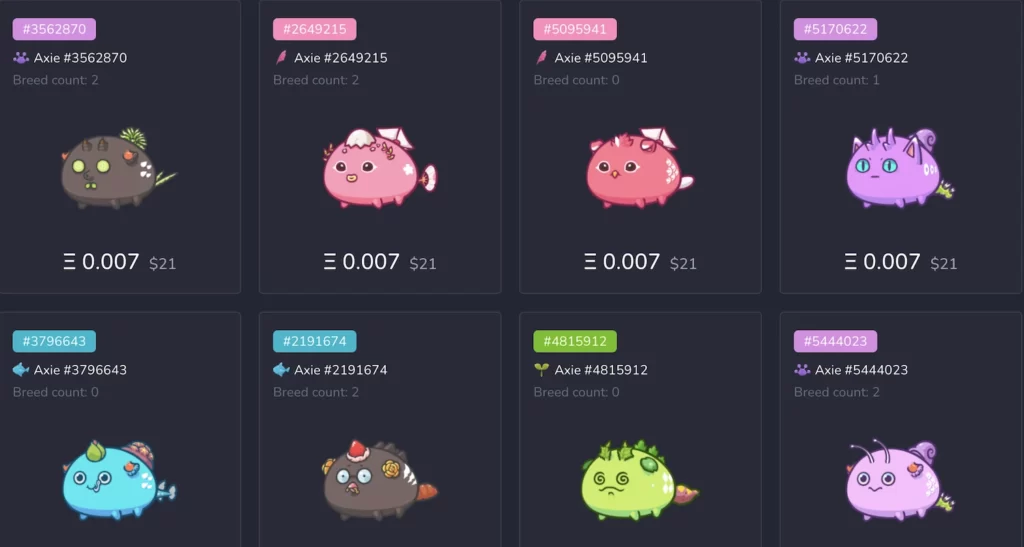 A trending NFT project in the metaverse – Axis NFTs. Axie Infinity is a non-fungible token-based online video game, where one can buy and use game creatures as NFTs.
Best NFT collectible project for sports fans
7. Sorare NFT Project
Hands down, this NFT project is the craze in the community. Best collectible digital cards for football fans and everyone who enjoys sport-based NFTs.
Current floor price for Sorare NFTs is around 0,02 ETH or around $60.
Best cheap NFT project
8. NBA Top Shot Project

NBATopShot is a collection of rare NFT packs with short videos of best moments of your favourite game.
If you are looking for the cheapest NFT collection to invest in or just curious which one is more affordable overall, then here it is: NBA Top Shot.
Some of the video game highlights can be bought as NFT assets for just a couple of dollars.
Best NFT Projects Full List
Which of the current NFT Projects are the best in terms of value?
In order to cut through the noise the team at NFTScout has prepared a list of the top NFT crypto projects that are worth following and investing.
Use the filters below to explore the list further.
What are NFT projects?
NFT projects are generally blockchain-based projects that focus on the creation, storage, and exchange of digital assets that are not tokens or coins.
These assets, often referred to as "non-fungible tokens" or "NFTs" are unique, digital assets that can be used to represent real-world objects or digital content.
NFTs are often used to represent items such as in-game items, digital art, or other digital content.
Types of NFT projects
Each NFT project can be assigned theoretically to a certain category based on its potential future use or characteristic. The NFT universe is already immense and it keeps expanding further with more upcoming NFT projects released or planned pretty much daily.
Obviously it raises a question of how to choose the best one and where best to buy it.
Ho help sort out the variety of NFTs our team prepared the following categorization of NFT projects:
NFT Collectibles
The major type of any NFT. Basically, most of the unique NFT projects of worth are collectibles of some sort. Meaning they will appreciate in value in time. Check out the best NFT collectibles compiled by the NFTScout team.
Utility NFTs
These NFTs have certain functional uses. These can include certain members-only privileges and access, physical items, usually similar to digital NFTs, access to fractional ownership of a certain NFT project. Check out the best utility NFTs gathered by the NFTScout.
Art NFTs
Basically, all initial NFT projects were unique art collectibles. NFT artworks are often being sold on high-end auctions like Christie's but at the same time they constitute the main part of any NFT marketplace. You can check the best art NFTs specifically on our website.
Music NFTs
Digital audio and video assets that are represented as NFTs. In some cases artists release whole albums as NFT assets.
Photography NFTs
These are photos made into digital NFT tokens. Any artist can tokenize its photo artwork into a unique photo NFT.
NFT Trading Cards
These are digital trading cards based on games or sports. Their popularity grows and might soon reach the levels of their physical world counterparts.
Sports NFTs
These are digital trading cards made specifically by sporting brands like NBA, F1 or other NFT collections related to sports. Explore more of the sports NFTs.
Virtual Worlds NFTs
Basically, these are NFT items that can be used virtually in Metaverse games like Decentraland or Axie Infinity. Some of these NFT collections can be used exclusively in a certain Metaverse at the same time there are ways to trade them on crypto exchanges. Check out the best NFT Virtual Worlds gathered by the NFTScout.
Game NFTs
These are NFT-based game projects. They can include Metaverse-based games, standalone blockchain games, digital trading cards, etc.
Gambling NFTs
These are either special NFT projects or collections launched by casino brands as part of promotions or NFT projects that have utility usage in online casinos like Pay n Play casino sites or crypto-based casinos. For example, some casino brands use NFT items as prizes in their tournaments or open their own 'Metaverse' casinos like ICE Poker did. At the same time, there are projects like Slotie NFT that grants holders access to the vast gambling networks with extra benefits.
Domain names NFTs
These are domain names for blockchain. NFT domains are used for replacing your crypto wallet address or as your unique identifier in the Web3 ecosystem.
Where to buy (or sell) NFT Projects?
If you are wondering what is the best place to buy NFT crypto projects check out this hand-picked list of NFT marketplaces that the NFTScout team prepared below:
Additional resources
Check out the list of recently added NFT Projects. Prepared for you by the NFTScout team.
Here is a handy guide on how to create your own NFTs prepared by Ethereum team.
A great introduction into NFTs with lots of info for beginners prepared by The Verge.
History of NFTs by Andrew Steinwold.
Narrowed down list of the best collections to buy in 2022.
Tools that you need to find NFT projects.
Our report: The State of NFTs in the Gambling Niche