The Best of NFT Art: our Top 6 picks for Digital Artworks
Explore some of the best digital art NFT projects and collections. Learn more about the value of crypto art and the debate surrounding it.
Updated on 5th December 2022
NFTs, or non-fungible tokens, are a fairly new type of digital assets that are revolutionising the art world along with other industries, where they are implemented.
While traditional art forms such as visual and graphic arts are still popular, digital art is rapidly gaining in popularity due to the additional value and utility these art NFTs offer. The sudden spike in interest for fine art NFTs across the world created a shift in value that was attributed to non-fungible digital assets.
There are more projects, NFT art collections and digital platforms for artists and collectors being launched on a regular basis. NFTs are ideal for representing ownership of digital art, as each non-fungible token can be seen as a digital certificate of ownership.
In this guide we will look at the best NFT art pieces and projects, summarise what people understand under the concept of NFT art, clarify the benefits of digital art for collectors as well as artists and more.
Best NFT Art Projects
The NFTScout team prepared a list of some of the most popular digital art NFT projects and collections for you. The art NFTs in this list are in no particular order.
Let's take a closer look at these NFT artworks below.
1. Crypto Punks NFTs

Crypto Punks is an Ethereum-based non fungible token project created by Larva Labs that was launched in June 2017. The project consists of 10,000 unique 24×24 pixel art 'punks' which can be bought and sold on the Ethereum blockchain.
It is one of the first NFT art projects with the best selling and top trending tokens in the web3 community.
Learn more about the Crypto Punks NFTs, their rarity, and the project's roadmap.
---
2. Art Blocks platform
Art Blocks is one of the best examples of a generative contemporary art platform. Art Blocks runs on the Ethereum blockchain and provides a unique programmable generative NFT content minting technology. NFT artists can create and sell on-demand generative art using the platform's technology.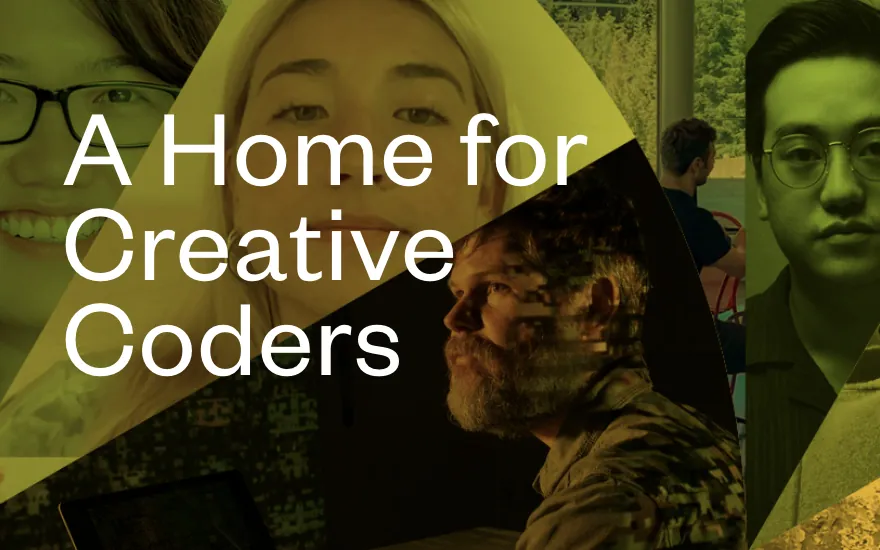 Apart from that, Art Blocks has real-world art spaces where artists can showcase their artworks. It also runs curated art NFT collections prepared by their in-house team.
According to Statista, this art platform generated more than 1.3 billion dollars in sales since their launch in November 2020.
What the art platform has to say about their role:
'Art Blocks is dedicated to bringing compelling works of contemporary generative art to life. Art Blocks gives a new generation of artists a platform to create in a groundbreaking new medium – and expand the definition of contemporary art'

Art Blocks
---
3. Xcopy NFT art
Xcopy is one of the best selling NFT crypto artists in the web3 community. He is well-known in the contemporary art NFT space. Some of the Xcopy NFT art ranks in the top lists of the most expensive NFTs ever sold online.
His NFT works are minted on leading NFT marketplaces and represented on all major crypto art platforms including curated lists by these platforms.
---
4. Beeple NFT art
Beeple is an artist who has become one of the most prominent figures in the world of non-fungible token artworks. His unique digital pieces have been sold for millions at auction, making him one of the highest earning artists in this space.
Beeple's NFT art is created using 3D software and often feature pop culture references, surreal imagery, and vibrant colors. They range from short animated GIFs to large scale works.
What sets Beeple apart from other NFT artists is his prolific output which sees him continually creating new works every day – sometimes multiple per day! This regular release schedule ensures he remains highly sought after by collectors who want something unique but also timelessly relevant that captures the current moment we live in now more than ever before.
Check the latest collection by Beeple.
---
5. Fewocious NFT art
Fewocious (real name Victor Langlois) is a top trending digital artist. He received a lot of praise from the NFT community and generated millions in sales since 2020.
One of the best known NFT artworks by Fewocious is 'Nice to Meet You, I'm Mr. MiSUNDERSTOOD' a real-world painting that comes with an NFT token of the same painting stored on the blockchain.
At some point, NFT art collection by Fewocious that was launched on the Christie's website attracted so many people trying to place a bid for his artworks that the site crashed.
Fewocious is currently considered as one of the leading NFT artists and his collections are top trending NFTs.
---
6. EPOCH gallery: whole virtual art shows as NFTs
EPOCH is a NFT gallery project launched and run by the multimedia artist Peter Wu+.
The idea behind the project is that people can purchase the whole art show/exhibition as an NFT with a proven authenticity, stored on the Algorand blockchain.
So, instead of a single NFT art piece you can get a whole ensemble of artworks by multiple artists displayed in the particular art show.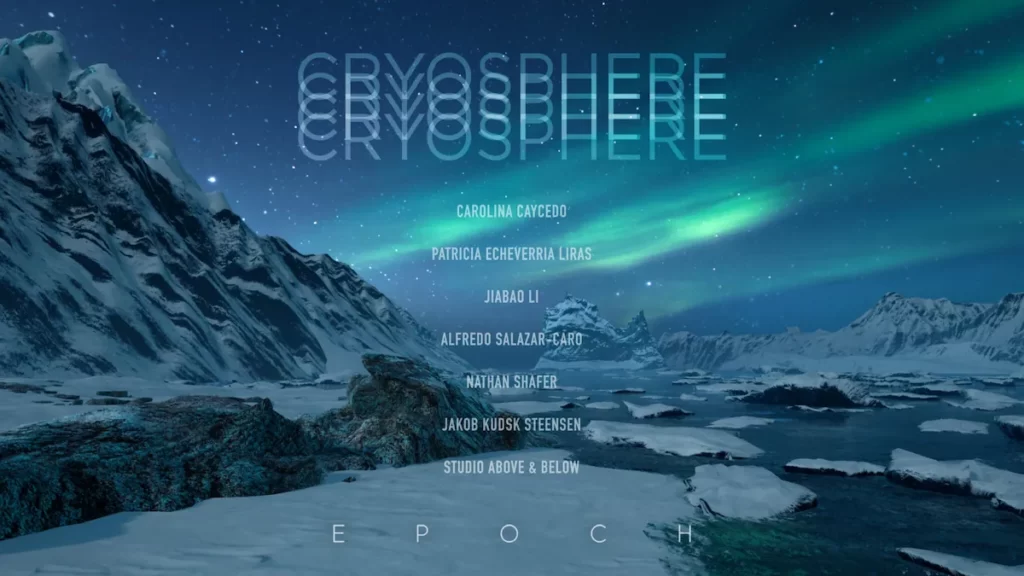 All the shows in the EPOCH gallery are virtual installations that come in full 8K resolution and hi-res audio as well as the option to watch the exhibition with VR headsets. The NFT art exhibitions can be purchased directly from the EPOCH's website.
Check the official website of the gallery to see the exhibitions available on display.
---
Notable NFT art auctions and sales
One of the most notable NFT art auctions and sales was the sale of Beeple's "Everydays: The First 5000 Days" in March 2021. The piece was sold for $69.3 million and was the third-highest price ever paid for a work by an NFT artist.
The NFT artwork was sold in an auction hosted by Christie's, the world's leading auction house.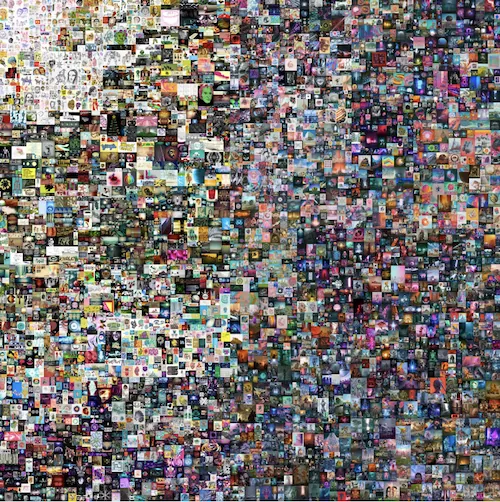 Another notable NFT art auction was the sale of the Larva Labs' "CryptoPunk #7804" in April 2021. The NFT piece sold for a staggering $7.6 million, making it the one of the most expensive non-fungible tokens ever sold. It was sold via the digital art marketplace, Nifty Gateway.
If you are interested in notable sales of NFT art make sure you check our article on the most expensive NFTs.
The emergence of NFT art auctions has been a long needed development in the art world, as it has allowed for the physical art world to be fused, in a way, with the digital one.
World famous auction houses like Sotheby's and Christie's launched their own digital art auctions and platforms.
Here is what Sotheby's says about their online NFT marketplace 'Sotheby's Metaverse':
"Sotheby's Metaverse curates and releases highly curated primary drops in collaboration with traditional and digitally native artists. […] Sotheby's offers a curated array of NFT's from Digital Art, Luxury, Collectibles, Sports and Pop Culture. Through multiple sale formats, Sotheby's provides a wide range of technical possibilities to the sellers, including auction, buy-now, generative drops, and sales of editions."

'Sotheby's Metaverse

---
Christie's launched a digital art marketplace called Christie's 3.0.
It is a marketplace for curated NFT art collections, including a virtual gallery where art lovers can look at the NFT collections. As the auction house explains, Christie's 3.0 is an on-chain auction platform dedicated to exceptional NFT art.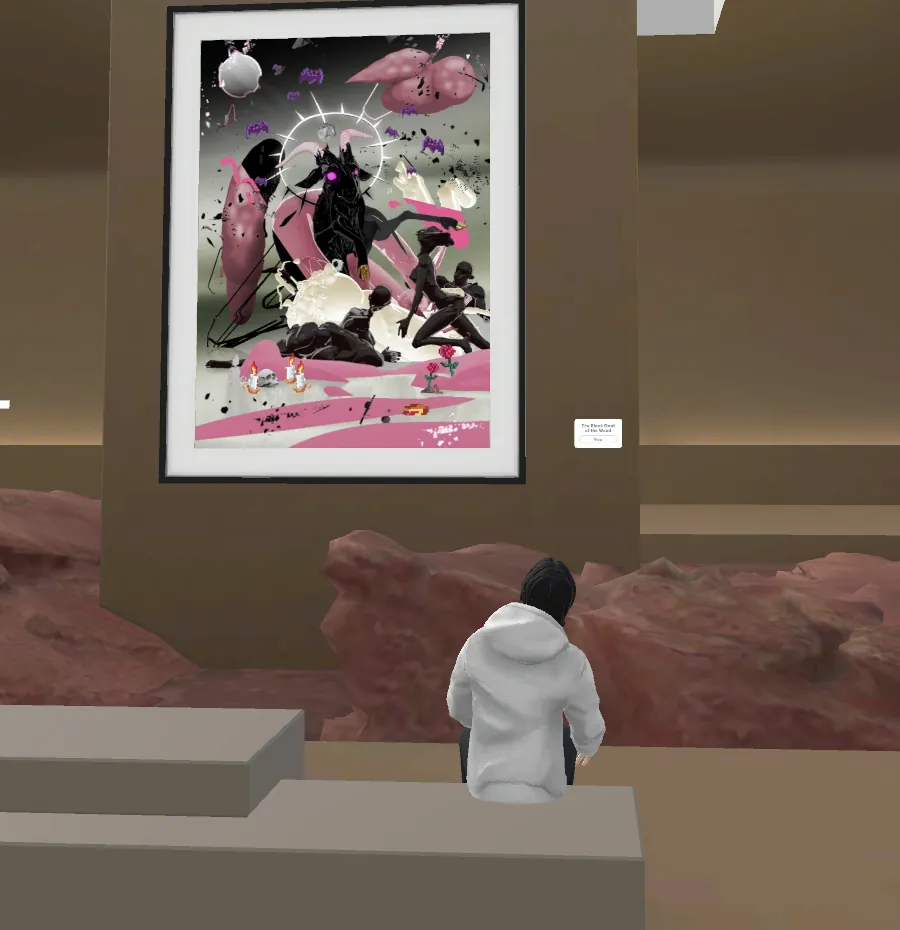 ---
Some NFT projects like Art Blocks are, on the contrary, collaborating on offline exhibitions where they showcase artworks by NFT artists from the platform. This type of collaboration opens a new way for digital art houses to promote their collections and artists.
It is clear that NFT art auctions have brought in innovations to how we view both physical and digital works of art by providing unprecedented levels of transparency and trust between buyers and sellers alike while opening up new opportunities for collaboration between creators and art platforms across the globe.
---
Where to buy NFT art?
NFT art can be bought from a variety of online marketplaces, art galleries and curated digital art auctions.
We have compiled a list of some of the top places where you can buy crypto art assets. This list includes well known platforms like OpenSea, SuperRare, Rarible, KnownOrigin and Foundation.
If you would like to know more about crypto marketplaces check our guide on the best NFT marketplaces.
---
All the different ways art can be expressed in the non-fungible digital world
Digital art created as non-fungible tokens is no longer confined to simple profile pictures and avatars (also known as PFP tokens) for your social media accounts.
Most of the things considered as digital art are on the blockchain already. Here are some of the examples of NFT art pieces:
NFT-based profile pictures
NFT paintings and fine art
Tokenized photography collections
A whole range of physical art items converted to the digital form
Music compositions and whole albums on the blockchain
Video clips as NFTs
VR-type art shows and exhibitions
Art spaces are being tokenized on a large scale. The traditional art communities are also experimenting with the digital art application. There are some interesting projects being developed that help to bridge web3 and the physical world of arts.
As we discussed in examples above, curated NFT art exhibitions, NFT auctions at Christie's, standalone or collaboration-based digital galleries promote and empower young NFT artists.
NFT Art advantages
There are a bunch of benefits of art NFTs for collectors and art lovers to own a piece of digital art as well as a lot of incentives for artists to create and promote their artworks in the online art community.
We made an analysis to summarise the top advantages of owning NFT art and listed what NFT creators gain from their digital art tokens and projects.
Let's look at these benefits closer.
NFT Art benefits for collectors
Owning Art NFTs offer a multitude of benefits for both collectors and NFT art lovers. Here are some of the top reasons for collecting and investing in digital works of art:
Security
It is an easy and secure way to own and collect digital artwork without having to physically store it or worry about the piece being lost or stolen. All transactions are stored on the blockchain, providing an immutable record of ownership that can't be altered or tampered with.
Easy access
For NFT art lovers, owning a piece of digital artwork provides access to original works created by artists from around the world. This allows them to appreciate and support their favourite creators in ways that weren't possible before.
Extra utility
Many art NFT platforms and projects also offer extra incentives such as exclusive access to their communities or online and offline events, future NFT drops for current art holders, etc.
Learn more about the NFT utility.
Flexibility
Investing in digital art assets allows collectors increased flexibility regarding how they wish to use them; whether it's re-selling and trading NFTs in the future or simply enjoying them within their own online collections.
Asset diversification
Investing in digital art NFTs open up opportunities for diversification. Non-fungible tokens are different from traditional stocks, they provide investors with an opportunity to diversify their portfolios, enter the digital art markets adding to physical art collections.
NFT Art benefits for artists
Here are new opportunities and benefits for artists and NFT creators on digital art markets.
Extra layer of security
NFT art offers a unique benefit to artists and creators that traditional forms of artwork do not: they are digital, immutable, and recorded on the blockchain. This ensures that an artist's work is secure and has digital ownership rights attached to it.
Art NFT sales also provide ownership and authenticity verification by displaying the information on the creator and artwork's metadata on the blockchain.
Royalties
There are resale royalties for NFT creators that they get for all the concurrent trades of their art pieces. This gives an extra incentive for NFT artists to opt for promoting and launching their work on digital platforms and marketplaces.
Less intermediaries
NFT art collections don't necessarily rely on auction houses and art dealers for promotion.
NFT artists can set their own price for the artwork and receive payments directly from buyers without having to go through a third party in most cases.
No gatekeepers
As more people become aware of NFTs as viable forms of artwork or collectibles, this could open up new opportunities for artists who may have previously been overlooked by art galleries or collectors due to limited physical space constraints or lack of access to the market.
---
The debate about the NFT art value
In general, the debate over the value of art NFTs centres around the idea that NFTs provide a way for artists to sell and distribute their work in a way that ensures its authenticity and uniqueness.
Some argue that this is a valuable development for the art world, as it allows artists to more easily control the distribution, authenticity and ownership of their work.
Others, however, have questioned the value of NFTs, arguing that they are simply a way for wealthy investors to speculate on the art market and drive up prices.
Overall, the debate over the value of art NFTs is complex and multifaceted, and there are valid arguments on both sides. It is a topic that continues to be discussed and debated in the art world and beyond.
Conclusion: Art NFTs and their positive impact in 2022
With the increased popularity of NFT art projects, it is likely that more people will be able to access this type of digital asset in the near future.
A lot of innovation is brought to the art market that helps to bridge both physical art space and digital art. There are a lot of high ticket sales in the art world for NFT-based, blockchain projects and collections.
The use of NFTs in the art world has become increasingly popular in recent years, and has sparked debate over the value and implications of this new form of digital ownership.
This way, the value that people see in art is gradually shifting towards online art markets but both physical/offline arts and online/digital spaces will coexist and collaborate.
The possibilities are endless, and the art world is just beginning to scratch the surface of what the web3 ecosystem can do. We are excited to see what the future of digital art holds for us!
Check out all NFT projects ranked and reviewed by the NFTScout. Additionally you might want to browse new NFT projects added to our database.