Best NFT Games
Explore our guide to the top NFT games of 2022 and learn about P2E approach for blockchain gaming.
Updated on 12th November 2022
With the rapid growth of NFTs (non-fungible tokens) popularity, it was not too hard to predict how rapid the development of NFT technology will be in the gaming industry as well.
Even with the overall trend for NFTs going down worldwide, games on the blockchain are still gathering millions of users and gaming companies implement blockchain technology on a larger scale.
NFT gaming became a big crypto sub-niche in itself.
In this guide we are going to discuss the fundamentals of NFT crypto games, their classification, review some of the best game titles on the blockchain and look at the benefits and the future development of NFT games beyond 2022.
Use the following links for a quick access to certain parts of this guide.
Best NFT Games in Review
What are the best gaming NFT platforms and projects? Check our summary review of some of the top trending NFT games. Note, that the games in our list are in no particular order.
Axie Infinity
A must-try blockchain game
Axie Infinity is a NFT-based online video game developed by Vietnamese studio Sky Mavis. It is one of the most popular Play2earn on-chain games worldwide.
Total market size of the game: 700 million US dollars (Coinmarketcap), with a latest 30-day volume of more than $30 million (Dappradar)
Is it free to play? No, you need to have crypto on your balance and/or buy NFT items to start in the game
---
Gods Unchained
One of the best P2E card games
Gods Unchained is a free-to-play trading card game where players can trade fantasy NFT cards.
Total market size of the game: 300 million US dollars (Coinmarketcap), with a latest 30-day volume of more than $20 million (Dappradar)
Is it free to play?
Yes, you can start playing this game without any upfront payments
---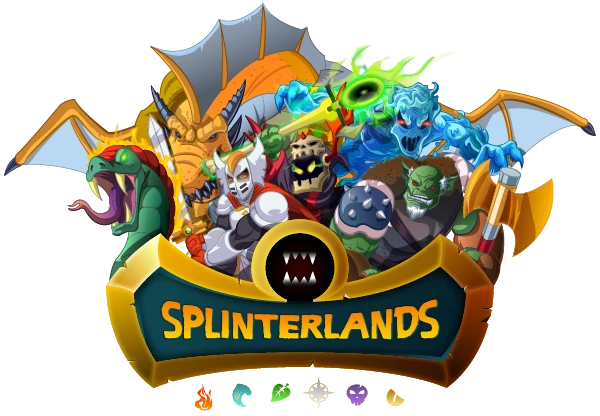 Splinterlands
Trending online collectibles card game
Splinterlands is a play-to-earn crypto game where players are given a handful of opportunities to earn money through rewards program, trading NFT collectible cards and in-game digital currency.
Total market size of the game: $36 million, with a latest 30-day volume of more than $17k showing an upward trend.
Is it free to play?
Yes, you can start playing in the free-to-play mode.
---
Alien Worlds
A play-to-earn metaverse game
Alien Worlds is a play to earn NFT game with the game mechanics built around owning, buying and trading land plots.
Total market size of the game: $44 million, with a latest 30-day volume of more than $2.5million.
Is it free to play?
Yes, you can start playing this game without any upfront payments.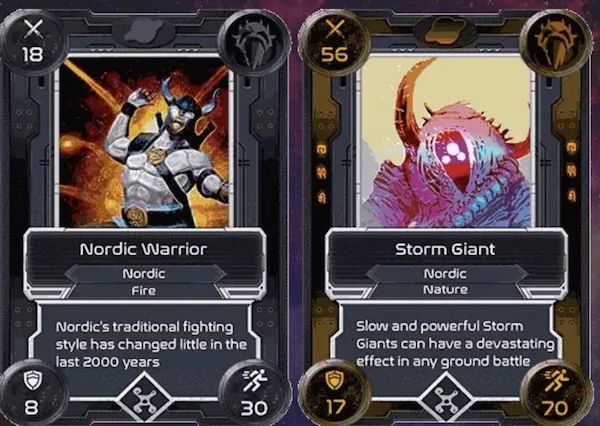 ---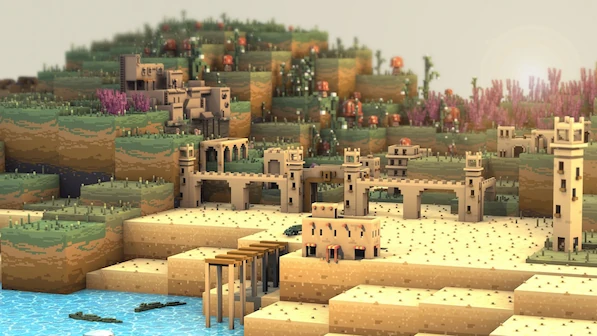 Sandbox
A well-known Metaverse game
It is a community-driven metaverse game platform. As the development company describes it, Sandbox is a virtual world where players can build, own, and monetize their gaming experiences in the Ethereum blockchain.
Total market size of the game: more than 1 billion US dollars, with a latest 30-day volume of more than $30 million.
Is it free to play? No, you need to have crypto on your balance and/or buy NFT items such as plots of land to start in the game
---
Sorare
Best NFT-based fantasy card game for sports fans
Sorare is an NFT-based fantasy game with contests for fans of football, basketball and baseball around the world. This blockchain-based game combines fantasy sports leagues and NFTs.
Total market size of the game: 60 million US dollars (Opensea).
Is it free to play? Yes, you can start playing this game without any upfront payments
Learn more in our Sorare NFT project review.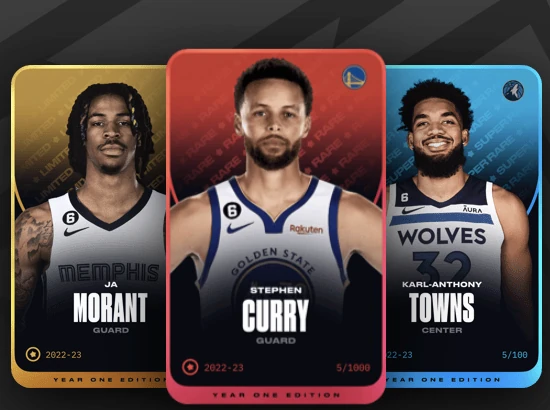 ---
NFT games explained: a complete guide on blockchain games
Let's look at the basic concepts behind blockchain gaming.
What are NFT games?
NFT games (also known as crypto games) are a type of digital games that use non-fungible tokens to represent game assets.
This brings a new level of ownership and control over in-game assets, as well as a new type of economics for NFT games. With the introduction of play-to-earn mechanics to blockchain gaming players have an opportunity to invest and gain profits from NFT games.
NFTs have been used in a variety of games, including digital collectible trading card games like Sorare, blockchain games like CryptoKitties and metaverses like Decentraland.
In general, NFT games tend to be more community-driven and decentralized than traditional games. This allows for a more transparent and fair game economy, where players can trade and sell NFTs in a decentralized market.
How do play-to-earn NFT games function?
Let's start by defining what a play-to-earn (P2E) game is. Play-to-earn games are games that enable players to earn money for their in-game activity.
In the context of blockchain games and NFT technology, play-to-earn crypto games (also referred to as GameFi) combine conventional gaming mechanics with blockchain technology.
Basically, play-to-earn platforms reward players for staying active on the platform.
Even though not all P2E crypto games are 'free' by default. In most cases you will have to make an upfront investment to start playing, either buying in-game tokens or assets like game characters.
This creates a new gaming experience, where players take real ownership of the in-game assets which are now stored as NFTs on the blockchain and can be used as part of the game mechanics.
For example, the first play-to-earn NFT game was CryptoKitties, a game where players could breed and trade digital cats. In CryptoKitties, players could earn Ethereum (ETH) by breeding digital cats.
The game was extremely popular, and at one point, CryptoKitties was responsible for over 10% of all Ethereum transactions.
Since then, a number of other play-to-earn NFT games have been released, and the list is growing every day. Some of the most popular P2E on-chain games include Axie Infinity, Gods Unchained, and Splinterlands.
Do all NFT-based games require money to start playing? Are there classic 'free play' types of games?
Nope, there are still some games on the market that won't require any upfront investment from you. We would suggest thinking carefully before playing these games though, as the over-reliance on free-to-play games in case you are trying to make some profits is very risky.
How can one get paid while playing P2E blockchain games?
There are two ways to potentially earn some money from P2E NFT games.
1. First option. You can earn crypto tokens/currency as part of the gameplay. The crypto that you can earn would be usually in-game and you will have to exchange it to make a withdrawal
2. Second option. Buy or earn (as part of the game) in-game items for a potential resale on the game-based marketplace or other secondary markets. These in-game items are NFTs, so they are fungible and become valuable trading assets.
In-game currency
In-game crypto currency is one of the models behind play-to-earn NFT gaming. Many games like CryptoKitties supply their own native crypto currency or gaming coins that are used in the game crafting process.
Users are steadily earning these native crypto coins by completing tasks in a game. Players can use these gaming coins as a utility to buy more items in the game or can withdraw crypto to their crypto wallets.
In-game assets
A more stable gaming mechanic developed for blockchain games is the crafting of in-game NFTs. These are unique digital items that can be used as a part of the gameplay, like skins, game characters, trading cards, plot of lands in the metaverse, etc. These NFT items are tradable, which makes them a valuable commodity for players.
Marketplaces for in-game items
NFT games allow players to own, buy and sell in-game assets either on native platforms or third-party NFT marketplaces.
For example, Sorare has their own native NFT marketplace where players can trade cards. At the same time, Sorare trading cards are also available on well-known platforms like OpenSea.
NFT mobile games: how good are these games for mobile devices
It's not a surprise that a big share of the conventional gaming market is attributed to mobile gaming.
With a constant rise of players on mobile devices, game developers obviously made sure that NFT game titles are compatible with both mobile (on iOS and Android) and desktop devices.
Arguments for and against NFT P2E games
There is a lot of discussion around NFT games and their development in the future.
Firstly, NFT games bring a new experience and mechanics for gamers and crypto enthusiasts.
As was mentioned by Cointelegraph, based on their interview with Animoca Brands co-founder Yat Siu, 'it's only a matter of time until more advanced models of NFT gaming are created, designed around the ideas of digital ownership, interoperability and economic utility'.
It is reported that the play-to-earn game market will reach more than 3 billion US dollars by 2028, with the blockchain gaming share growing steadily as well.
In addition, crypto games and the P2E approach can help to fund game development and create new revenue streams for developers.
Some argue that P2E games are not sustainable in terms of how the dev companies behind them function and how these projects make money overall.
There is also a certain level of negativity in the traditional gaming market towards on-chain gaming and gamified NFTs.
As was mentioned by Nftnow, 'prominent game developers and companies alike have opposed NFTs. Even Steam — one of the world's most popular video game distribution services — has joined the fight, banning all blockchain-related games on the platform'.
The negative side to playing P2E games is that you might potentially lose money you invested. Arguably, most of the NFT games are a bad choice for investment. We would caution against any rash decisions to invest your money without proper research first.
Pros and Cons of crypto games
Here is a short summary of the benefits and disadvantages of the NFT games niche.
Benefits
New gaming experience tied to NFT rules and mechanisms
Potentially, earn extra money while playing
The whole NFT gaming sector is still quite new, so there are more technology innovations ahead
Disadvantages
The game mechanics is not yet on the same level as in classic video games
At the current time the business model for P2E games is not yet sustainable for dev companies
Investment in games built on blockchain technology is risky and speculative
Earning money off NFT games is still much about a chance
NFT Games Full List (+ P2E crypto games)
Check the whole list of games with blockchain, non-fungible tokens mechanics available in our database.
What is the future of game NFTs?
The future of NFTs in games is exciting and full of potential. While the technology is still in its early stages, there are already a number of projects experimenting with using NFTs to create new gaming experiences like the play-to-earn approach.
These range from 3D virtual worlds to multiplayer games that use blockchain technology to create a more secure and transparent gaming environment.
One of the most promising aspects of NFTs is their ability to create unique digital assets that can be owned and traded by players. This could lead to a new era of digital collectibles and in-game economies, where players can earn rewards for their achievements.
As the technology develops, we can expect to see more innovative uses of NFTs in games.
The possibilities are endless, and the potential for NFTs to change the gaming landscape is huge.
Additional resources