Sorare NFT Project Summary
Updated on 4th October 2022
Sorare NFT project is an NFT-based fantasy game with contests for fans of football and baseball around the world. This blockchain-based game combines fantasy sports leagues and NFTs. 
Sorare comes to mind in the realm of fantasy sports leveraging gamified NFTs. Players can purchase and trade digital player NFT cards and each week participate in tournaments, creating and managing lineups and earning points based on players' real-life performances.
Sorare NFT Roadmap
The Sorare NFT platform was officially launched in 2018.
Initially Sorare featured over 200 football teams with a final number reaching 280 officially licensed clubs in August 2022.

Major League Baseball (MLB) was added as an option to enjoy fantasy contests for baseball fans. Sorare platform features all 30 official clubs of the MLB.

Sorare Android app launched for enhanced mobile experience.

The NBA league is coming soon to the Sorare platform. Fans will have an opportunity to compose virtual NBA teams from the list featuring all 30 official clubs.
Sorare NFT Utility
It is basically a play-to-earn trading card game. Sorare is based on the Ethereum blockchain technology.
As a manager of your fantasy teams you can participate in weekly tournaments. While participating in the tournaments you can win both card collectibles as well as Ether for further purchases or sell cards and withdraw funds from your account. That is the main NFT utility in this project. 
NFT Fantasy Cards are tradable on the Marketplace. As a rule, the rarer the digital card, the higher the price you can fetch on the Marketplace or, in turn, pay to get it to your collection.
More on the Sorare NFT cards below.
Sorare NFT card details and features
There are five card levels or tiers in the game.
The first one is the Common level. For example, these are the types of digital cards that you unlock upon registration.
As Sorare team explains, there are 4 card scarcities levels on top of the Common cards:
Limited, Rare, Super Rare, and Unique. Card scarcities are important when determining what competitions you are eligible to enter.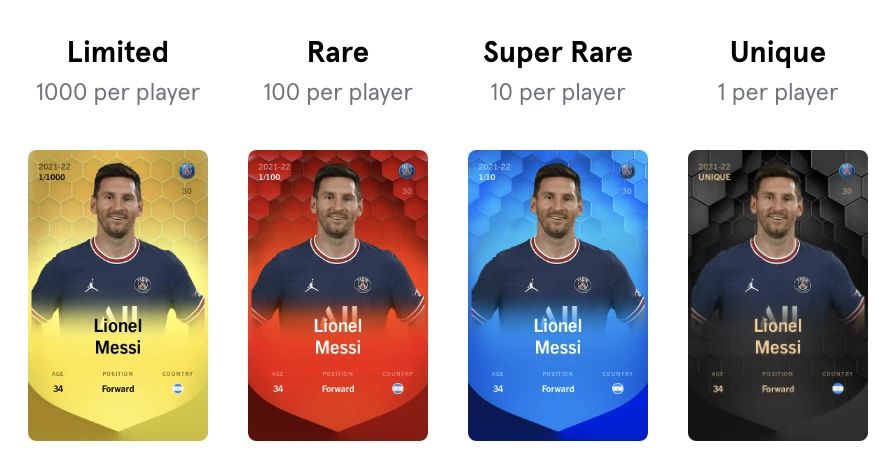 The same scarcity levels are used as filters on the Sorare marketplace auction. They basically define the NFT rarity for each token as well as influence the price of Sorare cards.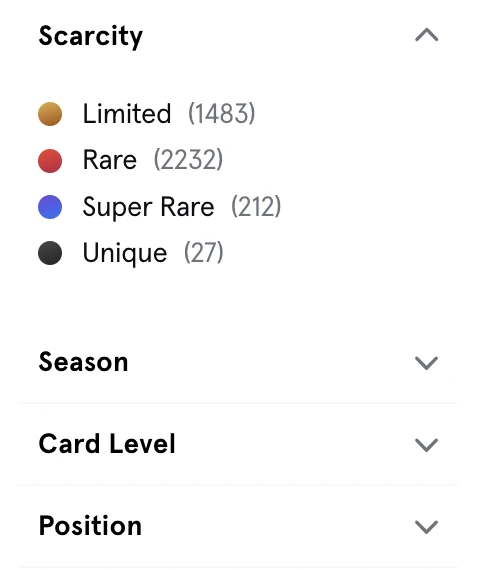 What Sorare says about digital cards:
'Player cards are used to set your lineups. Each card has information like recent scoring performance, bonus details, and contest eligibility that will help you make informed decisions when setting your lineup.'
How to buy Sorare NFTs
You can buy and then trade digital cards directly on the Sorare platform. 
At the same time, Sorare NFTs are available on a range of 3d party marketplaces like OpenSea.
NFT Collections similar to Sorare
If you are looking for similar sports themed NFT projects, check out the NBATopShot project.
Check more NFT Collections