Bored Ape Yacht Club NFT Project Summary
Updated on 5th September 2022
A short overview of the Bored Ape Yacht Club (BAYC) NFT collection is provided by the NFTScout editorial team.
Bored Ape Yacht Club is similar to CryptoPunks in that these NFTs are commonly used as online avatars. The project features cartoon apes that have different attributes and rarities, and the cheapest Apes cost about 100 ETH.
At the beginning you could get your hands on an Ape for around 1 ETH, making this project one of the fastest-growing NFT collectibles in the industry.
Bored Ape Project Roadmap
Bored Ape's team has a well-thought roadmap with lots of utilities available. The BAYC Roadmap includes things like 'The Bathroom' – "A member's-only graffiti board", offline party events, Member-Exclusive BAYC Merch Store with t-shirts, hoodies and more.
Apart from that the team behind Bored Ape Yacht Club collection developed and launched new projects: Mutant Ape Yacht Club, Bored Ape Kennel Club collections and limited collections Bored Ape Chemistry Club and BAYC Honorary Members NFTs.
Check out their official Roadmap page.
Bored Apes NFT Utility 
BAYC collection offers exclusive access to a members-only community. This membership includes offline events like yacht parties and charity dinners. These events are being organised as part of the "Ape Fest".
More BAYC NFT utility applications can be unlocked by the community through roadmap activation.
APE FEST 2021 – Details ☠️🦍⛵️ pic.twitter.com/6VWBiIUSGQ

— Bored Ape Yacht Club (@BoredApeYC) October 29, 2021
Bored Ape NFT Collection traits and features 
Bored Ape NFTs have a wide range of features and traits. The whole Apes collection can be filtered down by:
Background colour of the avatar

Different types of clothing such as a cowboy shirt, earrings, bow ties and other dope features

Colour of the fur that a bored ape avatar has

Type of a bored ape's moth such as an ape with a cigar or a bubblegum, etc
You can check the whole list of traits on the Bored Ape Yacht Club gallery page.
In our opinion, the best trait in this collection is an ape with a slice of pizza in its mouth.
BAYC Rarity
Are you looking for the rarest nft token in the Bored Ape yacht Club collection?
Bored Ape #7495 is the rarest token in the collection with a rarity score of 364.42 based on Rarity.tools data.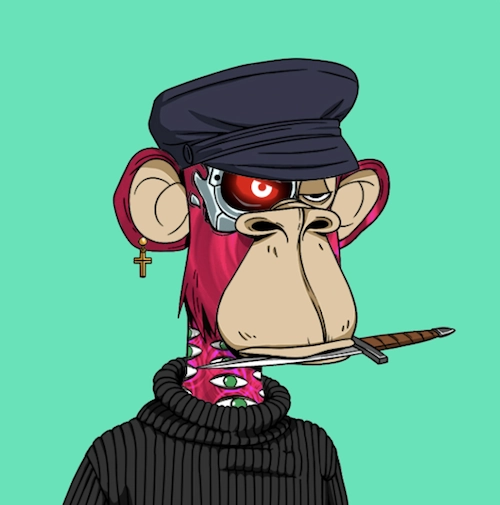 All the data about BAYC nft rarity was compiled from open-source data by Rarity.tools, RaritySniper, OpenSea and similar sources. Please note that generally any overall value or rarity assigned to a NFT token is inherently subjective.
Bored Ape Yacht Club NFT price.
Current floor price of a Bored Ape token is 110 ETH, with more than 6000 unique owners recorded by the OpenSea marketplace.
The cheapest BAYC NFT
The cheapest token in the collection last sold is Ape #6819. The price of this avatar was 10 ETH. While the cheapest price or the floor price of a NFT from the collection stands at 110 ETH.
The most expensive BAYC NFT
The most expensive Bored Ape NFT token sold recently is the Ape #3680 with a price of 175 ETH on OpenSea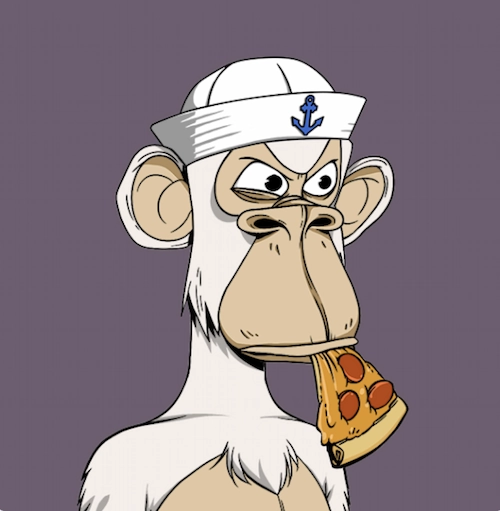 In order to follow Bored Ape Yacht Club price dynamics check these resources that NFTScout team uses in our assessments as well:
How to buy a BAYC NFT
If you are looking for the best marketplaces where you can buy Bored Ape NFTs we have prepared a list below:
NFT Collections similar to BAYC
There are a couple of collections that have a similar vibe and overall style to Ape NFTs. Follow the links below to check them out: